Lori Slater – Manager/Coach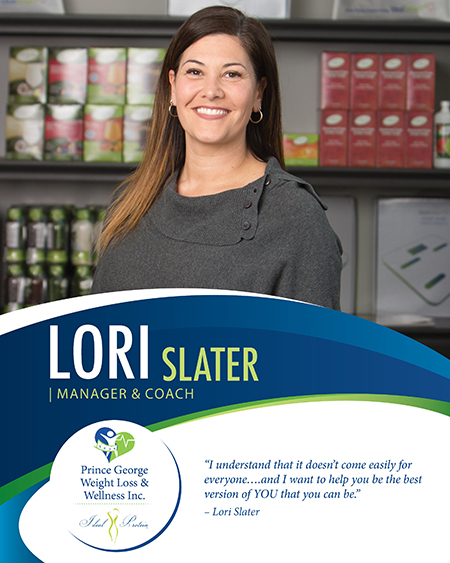 I am very excited to help you achieve your goals, one decision at a time. I understand what it takes to reach your goals. I too, have used the protocol and lost 38 lbs. I have been a Physical Education teacher and sports coach for 17 years and I am passionate about helping people and watching them be successful.
I understand that it doesn't come easily for everyone….and I want to help you be the best version of YOU that you can be. I look forward to meeting you!*
*Individual results while following the Ideal Protein Weight Loss Method may vary.
Our medically developed weight loss protocol and smarter lifestyle choices education offers dieters what they really want…a structured program that can put an end to constant dieting.
Business Hours
Monday:
8:30am - 4:00pm
Tuesday:
8:30am - 4:00pm
Wednesday:
8:30am - 4:00pm
Thursday:
8:30am - 4:00pm
Friday:
8:30am - 1:00pm
Saturday:
8:30am - 1:00pm
Sunday
Closed
Alternate appointment times available by appointment only. 
Prince George Weight Loss and Wellness Inc. is Authorized to Use the Ideal Protein Weight Loss Protocol and Products. The testimonials on this website are those of the individual that is identified, you should not necessarily expect to receive these results. Typical results vary from person to person and individual to individual when the Ideal Protein Weight Loss Protocol is followed properly. You should consult your physician or other health care professional before starting this or any other diet program to determine if it is right for your needs.
1811 Victoria Street, Suite 304 Prince George BC V2L 2L6 – Phone: 236-423-4237
Copyright © 2017 Ideal Protein All rights reserved.